But still she doesn't let go. "You don't receive complaints from citizens," she continues to shout. "You cover up for police harming citizens."
"They are all policemen here," she tells a group that has assembled around her. "They are a police department for repressing and harming citizens."
Tran Thi Nga has only her voice and her force of character to stand up against oppression in Vietnam. And she uses both fearlessly. "Don't even think that you can oppress us by wearing police uniforms," she says to a man who ends up retreating into a building.
She was careful to videotape the episode, which took place on Sept. 19, 2013, at a government office set up to handle citizen's complaints in the town of Phu Ly, Ha Nam province, where she is from and still resides.
The video of the confrontation can be found on YouTube, and has been reposted many times under various pseudonyms.
Other videos are more harrowing. In May 2014, she was attacked while riding on the back of a bicycle with her children. Men armed with pipes beat her, chased her into a nearby car dealership, and came back no less than three times to inflict harm.
The video is as chaotic as the attack, featuring chilling screams as she tries to find cover.
On yet another video posted on YouTube, Tran Thi Nga is wheeled to a hospital, an arm and a leg in bandages and splints, and swollen bruises on what remains exposed of her body. Two little children run behind her stretcher, and Tran Thi Nga comforts them as she speaks to the camera to document the attack.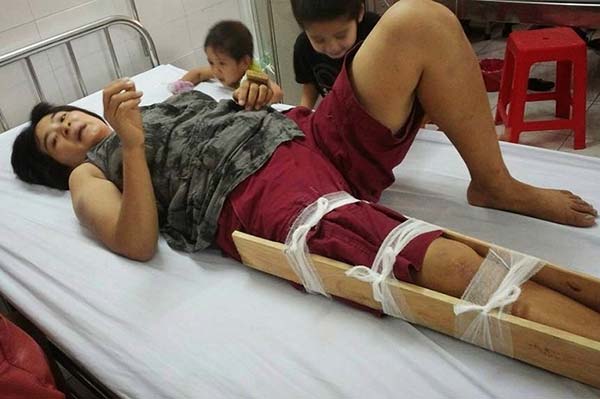 Screen grab from a YouTube video: Tran Thi Nga is interviewed on a hospital bed following an attack in May 2014.
Physically assaulting human rights activists has now become a preferred means of intimidation for the Vietnamese government, which has intensified its crackdown on dissent. The Vietnamese Communist Party has ruled the country since 1975 and has little tolerance for the basic freedoms that its citizens increasingly demand.
About 200 political prisoners are currently held in Vietnamese jails, but many more activists are viciously beaten by hired thugs or plainclothes policemen in what has become a worrying trend for human rights organizations.
But what people like Tran Thi Nga lack in rights and protection, they make up in their fierce determination to speak up and use the Internet at any cost to bear witness to the brutality of their regime.
Tran Thi Nga was only 20 years old when she used a broker, like many other young Vietnamese women, to find employment in Taiwan and send money back home.
First employed as a housemaid, she was then placed in jobs in various industrial concerns such as garbage sorting and the manufacture of plastic bottles, electronic chips, and plastic auto parts. While a maid, she worked from 4 a.m. to 9 p.m. The broker kept not only her passport but also 80 percent of her wages. New positions meant she had to pay new fees.
She would have never been heard from if not for a 2005 traffic accident that sent her to a hospital and then into recovery for the next three years.
It was through the Taiwanese police that she learned about the illegal nature of her treatment as a foreign worker. And during her recovery she educated herself on labor laws and rights with the help of a Vietnamese priest.
Tran Thi Nga still has a large hospital debt, but also a deeper understanding of human rights and a sharp eye for inequalities.
"I am a citizen. I have a right to stand here!"
Back in Vietnam, she took it upon herself to intervene to defend abused laborers, particularly among women who were trafficked overseas. But she also speaks up and takes part in protests on political issues.
In 2014, she took part in anti-China protests that rocked the country following maritime confrontations in the South China Sea between the two countries.
Tran Thi Nga, who is the mother of four boys, spends all her time focused on human rights issues. She lives on the rent paid by tenants in her home and on the salary of her second partner, whom she cannot legally marry for fear that he may lose his job because of her activities.
She is now a member of Vietnamese Women For Human Rights, a recently established group that includes overseas Vietnamese wishing to lend support, training, and encouragement to those who stand up to defend human rights in Vietnam.
She is also a member of Bau Bi Tuong Than, a domestic group set up to provide assistance to prisoners of conscience and their families.
Tran Thi Nga has no political ambitions—just a firm belief in the rights of Vietnamese citizens. As she tells the plainclothes officers who surround her in the video from Phu Ly, "I am a citizen. I have a right to stand here!"