Do is a pretty girl with a beautiful singing voice. She was born on March 13, 1985 in the Central Highlands province of Lam Dong, a scenic and mountainous area covered with lush forests and rich farming land.
Do's grandmother was awarded the title of "Martyr" as a person who had sacrificed her life for national independence and freedom. Her father was captured by the Vietnamese Communist army and spent two years in prison after the war. Later, her mother testified before the U.S. Congress to ask for help in obtaining the release of her daughter from jail when Do finally landed there in 2010.
But her family heritage does not explain fully why at age 20 she was already a labor activist.
Her early work as an accountant was not enough for her energies, and she had soon quit to focus on labor rights, traveling around the country to help workers organize to demand better pay and adequate safety on the job.
A member of Dan Oan (Victims of Injustice), a petitioners' movement seeking redress for dispossessed farmers, she also helped to found the United Workers-Farmers Organization (UWFO), an independent—and outlawed—union formed by dissidents in 2006.
In December 2009, Do went undercover to travel through Cambodia and Thailand to attend a labor conference in Malaysia.
In 2010, she visited a mine site in the western province of Tay Nguyen, where Vietnam had struck a controversial deal with China for the extraction of bauxite, the raw material for aluminum.
The deal had been challenged by dissidents and activists as being environmentally risky and as offering excessive concessions to Vietnam's powerful neighbor China. Do and her companion, fellow activist Nguyen Hoang Quoc Hung, secretly took pictures at the mining site and posted them on the Internet.
Under the alias Hai Yen, Do then gave several interviews to foreign media accusing the government of cozying up to China and selling out the country. The Vietnamese authorities were paying close attention.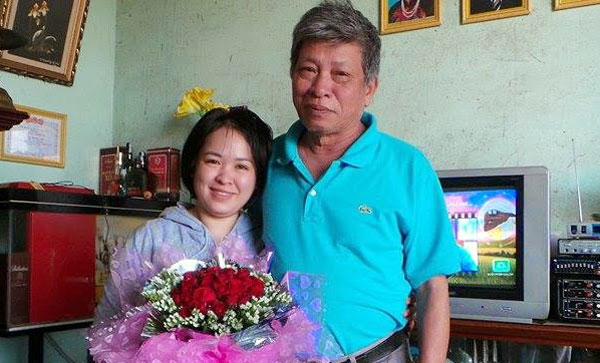 Do Thi Minh Hanh poses with her father after her release from prison, June 27, 2014. Photo courtesy of Do Thi Minh Hanh
In February 2010, she was arrested for distributing leaflets and "inciting" the workers of a Mekong delta shoe factory to strike for better pay and improved working conditions.
Although a negotiated compromise was finally reached between workers and managers, Do and two friends, Nguyen Hoang Quoc Hung and Doan Huy Chuong, were arrested for "disrupting national security" under Article 89 of the Vietnamese Criminal Code.
In a closed proceeding in October 2010 hearing, the three were neither represented by counsel nor allowed to speak in their own defense. And at age 25, Do was handed a seven-year sentence.
"I cannot bear the shame the staff makes me undergo on a daily basis," Do told her mother a few years later when concerns for her health raised alarms in both Europe and the United States.
She was detained with common criminals, and at times she was shackled and repeatedly beaten by both wardens and other detainees.
Then, suddenly on June 26, 2014, she was released and went home to her parents.
In an interview shortly after her release, and still visibly shaken, Do described her experience in detention: "A lot of people were sick. But illness was only a small problem. [My health] is not as important as my spirit. So I was able to overcome whatever happened to me.
"I'm very happy to be free because I see changes. Our society has begun to move in a more positive direction after my four years, four months and three days in prison."
Always the negotiator, she also described trying to bargain with prison authorities, though to no avail. Both Nguyen Hoang Quoc Hung and Doan Huy Chuong are still in jail along with other prisoners of conscience. Upon her release, Do made a point of reminding her supporters of their fate.
Much has been written about Do on social media and in various Vietnamese publications, and she seems to have captured the imagination of young people who admire her spirit.
And she, in turn, admires them.
"I'm very happy to be free because I see changes," Do says. "Our society has begun to move in a more positive direction after my four years, four months, and three days in prison. [Young people] strengthen my belief in the path that I have chosen."