"Your mother incited the people against our government by raising an outcry in public," the authorities told Ghulam's daugther, Patime Eli, who had accompanied her to the police station when she was summoned. Eli was later informed that her mother had been charged with "leaking State secrets."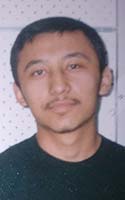 Immamemet Eli
Disappeared July 2009
Ghulam's son, 25-year old Immamemet Eli, disappeared in July 2009 during one of China's worst incidents of ethnic violence in decades. The last time she heard anything about him was nine months later when fellow inmates said he had been severely tortured and taken to a hospital.
Ghulam's son is only one of many Uyghurs who were forcibly disappeared in the aftermath of the Han-Uyghur clashes triggered by a peaceful march for justice in the Xinjiang capital. More than two hundred are reported to have died in the violence.
Overseas Uyghur groups have documented close to 50 other such disappearances, which rights group Human Rights Watch says are likely a small part of a much larger number.
Ghulam's June 2014 arrest marked her second in three years. In 2011, the widow and mother of four who makes a living with her needlepoint work was held for seven days for "insulting police."
Since starting to search for her son, she has been subjected to house arrest, placed under surveillance, and prevented from traveling to certain public areas in Urumqi including the Grand Bazaar marketplace and People's Square—especially during visits to Urumqi by regional officials or foreign diplomats.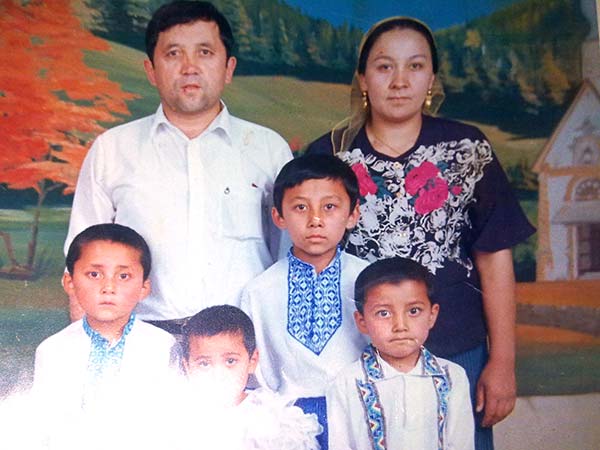 Patigul Ghulam with her husband and children during happier times on an undated photo. Photo: Provided by Patigul Ghulam
Ghulam has repeatedly said, though, that she will speak to anyone who will listen about her struggle to find her son despite efforts by Chinese police and officials to obstruct her.
She has also spoken to foreign media and written open letters to the prime minister of Turkey—home to a substantial Uyghur population—and to a Turkish opposition leader before their respective visits to Xinjiang. In January 2014, she exhorted the visiting opposition figure not to believe the "lies" that the Chinese government had told him about China's policies in Xinjiang.
She also wrote more than 30 letters to officials in Urumqi and Beijing asking about the fate of her son, spending a month and a half 's worth of her second son's salary on stamps.
None of these actions has led to an answer for Ghulam or for the family "We need some time to clarify this issue," she was told.
Other parents reported similar evasions:
"We are continuing to look for them," some were told.
"The investigation has ended, and we need to wait for orders from higher up before we can announce the findings."
"Your son or daughter has escaped from prison, and we do not know his or her whereabouts."
"Your son or daughter has been released, and may have fled the country."
But Patigul doesn't give up.
"...I am willing to face any kind of danger, because there is no bigger punishment for a mother than losing a son."
Once, while being driven out of town during a city conference that had attracted official visits, Ghulam threatened "to break the police car windows if I have to" to get back home to her three remaining children.
She has been repeatedly arrested, bullied, insulted, and humiliated by authorities. But she is driven by a mother's anguish. "I don't know where my son is, or even whether he is alive or dead," she says.
Asked whether she fears punishment for her repeated public appeals, Ghulam says that the authorities can do nothing that will hurt her more than the loss of her son.
"My everyday life is a kind of torture," she says.
On July 7, 2009, two days after violence rocked Urumqi, in a rare and daring show of public protest, Uyghur women stepped forward to demand the return of their men who were arrested in large numbers by Chinese police.
Women of all ages, wearing Islamic scarves as well as high heels and sexy tee-shirts, poured into the streets, raising their fists and screaming in the face of a momentarily frightened police.
"They fight for freedom, for dignity," said one Uyghur woman interviewed by Radio Free Asia, allowing a rare look into the psyche of women of the Muslim faith living in Central Asia.
Ghulam's continued quest and detention shows that their fight is far from over.